The most important thing that no one is telling you, is that your exhaustion and lack of focus may very well be adrenal fatigue, a condition that is fast becoming an epidemic in this country, due to stress, poor nutrition and lifestyle.
The good news? The end is here.
It is highly reversible with the right steps and solutions.
In a few days, my good friend, Board-Certified Holistic Nutritionist, Evan Brand, and I will be hosting The Adrenal Reset Summit, and I would like you to come as my guest. (AND get the cool opt-in gifts!).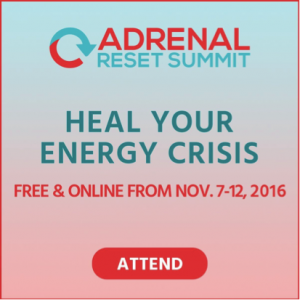 Constant fatigue and insomnia (yes, you can have both), sugar cravings, the inability to control blood sugar, lack of mental clarity… this condition is brutally disruptive.
Join me for "The Adrenal Reset Summit" and hear some of the most powerful speakers – and the most creative strategies and solutions out there.
I know you won't want to miss this event!
Click here to save your seat: "The Adrenal Reset Summit."
Here's to your best health and BEST life,

PS: What you don't know about your adrenal system could literally change your life. Just add a little more energy to your life every day – and everything changes.  LINK
PPS: Be sure to grab my super cool thank you gifts right after you reserve your complimentary spot!
Here are the experts we have gathered together to support you…
    Chris Kresser, M.S., L.Ac – Is Adrenal Fatigue Real?
    Dr. Josh Axe, DNM, DC, CNS – Adrenals and Essential Oils
    Dr. Tom O'Bryan, DC, CCN, DACBN – Adrenals and Gluten Exposure
    Steph Gadreau, CHNP – Perfectionism and Adrenals  
    Trudy Scott, CN – Adrenals and Anxiety
    Dr. Aviva Romm, MD – Adrenal Adaptogens
    Dr. Ben Lynch, ND – Adrenals and Methylation
    Dr. Izabella Wentz, PharmD – Adrenal Thyroid Connection
    Dr. Justin Marchegiani, DC – Conventional vs Functional Adrenal Treatments
 Sarah Ballantyne, PhD – Finding Work Life Balance
 Ben Greenfield – Social Connection and Adrenals
 Dr. Jack Wolfson, DO – Paleo Adrenal Diet
 Dr. Mark Hyman, MD – Mindset for Healthy Adrenals
 Dr. Michael Murray, ND – Adrenals and Natural Medicine
 Wendy Myers, FDN, CHHC – Heavy Metal Toxicity
 Dr. Dan Kalish, DC – Adrenal Neurotransmitter Connection
 Dr. David Brady, ND, DC, CCN, DACBN – Stages of Adrenals
 Dr. James Wilson, ND, DC, PhD – History of Adrenal Fatigue
 Mike Mutzel, MS – Belly Fat and Leptin Resistance
 Dr. Peter Osborne – Adrenal Autoimmune Connections
 Bridgit Danner – Adrenals and Female Hormones
 Dr. Ritamarie Loscalzo – Insulin Resistance and Stress
 JJ Virgin, CNS, CHFS – Preventing Adrenal Burnout
 Marcelle Pick – Your History of Stress
 Sarah Fragoso – Be Self-First, Not Selfish!
 Dr. Michael Breus – Sleep and Adrenals
 Nora Gedgaudas – The Adrenal Myth
 Julia Ross – Neurotransmitters and the Food Mood Connection
 Niki Gratix – Trauma and Adrenal Health
 Eric Windheim – EMF and Adrenal Fatigue
 Katie Wellness Mama – Motherhood and Adrenals
 Ari Whitten – Building Stronger Mitochondria and Resistance To Stress                                                   
* Want to change lives AROUND YOU?
Share this link with those you love and post it to your Facebook wall!