Happy (almost Halloween)! I hope this note finds you getting healthier and happier.
It's been a busy time both for my family and my team. On the home front, our daughter is off on her gap year, exploring Europe on her own with no agenda. She's having a grand adventure and doing a great job negotiating new places but nonetheless, parents do worry.
We held our first VIP event last week and had a blast hosting everyone.
We got to cover everyone's needs in detail. I used the information that the attendees shared as teaching points to go really deep in so many important topics. We talked in tactical detail about food, cooking, all things thyroid, hormones, adrenals, blood sugar, detox, liver, longevity, exercise, sleep, and much more.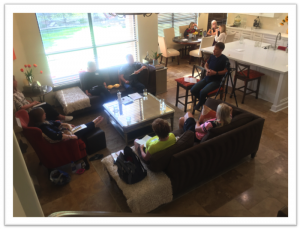 When we talked about food, it was so handy to have my pantry and kitchen right there. Whenever an exotic superfood that came up, my pantry and kitchen were right there. It was so easy to show the exact items and let people sample.
If that was not enough, we also did cooking lessons with myself and Kirin, an exercise class, and mind body training.
Lots of you reached out and wished you could have come if it weren't for scheduling conflicts. I'll keep you posted, but we will likely do the event again sometime in 2017.
In talking to everyone about their symptoms and causes of the core issues behind them, I realized how apropos the adrenal summit is. Your level of stress resilience is the key to health, longevity, and happiness. I worked hard to get some great interviews so that you can have more of all these good things.
The interviews are free. All that I ask is that you listen closely and take the advice to heart. Make notes on 3 tips you can do now, and jot down 3 more that you'll remind yourself about next month.
This is how we make the world better. We start by raising our own vitality.