In case you missed it last week – there are just a few more days to get some world class olive oil for $1 a bottle with no strings attached.
Olive oil is one of my top favorite things of all time. It's pretty amazing how good the best olive oil can be and how dangerous the stuff you find in the supermarket is.
In his New York Times best-selling book, Extra Virginity, journalist and olive oil expert Tom Mueller warns of contaminants and even cancer-causing agents in fake olive oils, as follows:
"Italian investigators have found hydrocarbon residues, pesticides, and other contaminants in fake oils, and pomace oil, a common adulterant, sometimes contains mineral oil as well as PAHs, proven carcinogens that can also damage DNA and the immune system. Then there's the 1981 case of toxic oil syndrome in Spain, when oil adulterated with an industrial additive, sold as olive oil, killed eight hundred people and seriously injured thousands more."
You see, ordinary mass-market olive oils sell in such huge volume, they must combine inferior olives from many farms and different growing regions, with little regard for flavor compatibility. To my taste, this typically results in a dull, lifeless flavor profile.
In contrast, award-winning artisans create their oils from olives grown on small, boutique farms. These dedicated masters are free to strive for flavor perfection from each different type of olive. This makes their award-winning creations as rich, complex, and distinctive as the finest wines.
So Who Is My Favorite Source of the World's Best Olive Oils?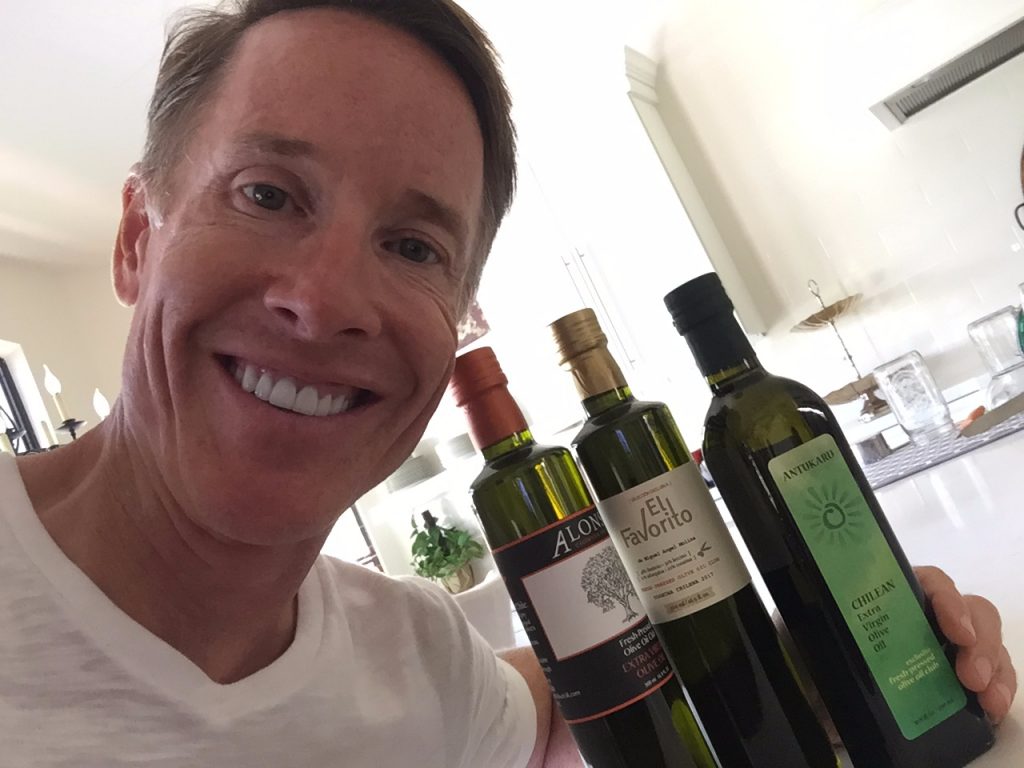 Meet My Personal "Olive Oil Hunter," T. J. Robinson
A one-time chef and gourmet food writer/editor, T. J. came up with the idea of hunting for the world's best, freshest artisanal extra virgin olive oils (EVOO)—and flying them directly to the kitchens of America's top gourmet chefs and passionate foodies straight from the new harvest at their peak of flavor. He does this through his fast-growing Fresh-Pressed Olive Oil Club.
Joining the Club gives you direct access to the purest, freshest, and most flavorful olive oils from a wide array of gold-medal-winning olive oil producers. These olive oils are personally hand-selected by T. J. Robinson exclusively for his Club members and are available nowhere else on earth. They are out-of-this-world delicious! And, as I mentioned, when you join, there's no commitment to buy anything else.
My First Taste Blew Me Away
When he heard about my website, T. J. sent me three of his new oils, fresh from the harvest, for a taste test. I loved the rich complexity … the vibrant colors that ranged from deep green to golden … and the bright, sunny flavors.
What should you expect in a good olive oil? A distinct "pepperiness" at the back of the throat upon swallowing. This peppery tang is due to the oleocanthal, the inflammation-fighting component that can begin to disappear six months after pressing. This is yet another reason to buy your olive oil when fresh.
Once I tried T. J.'s olive oils, I fell madly in love with them, as did my family.
In any case, T. J. wants to make it easy for you to decide for yourself by doing your own home taste test. That's why he came up with his generous "$39-Bottle-for-a-Buck" offer.
$39-Bottle-for-a-Buck Promotion Ends Monday, August 7th.
If you'd like to try this unique Club and receive one of T. J.'s $39 bottles for just $1 to help cover shipping, I suggest that you act now because there is not much left and we won't get any more until the next growing season.
I'd love for this olive oil to make you as happy as it makes me and my family.
If you're interested, try a bottle for just $1 and taste for yourself. I'll be eager for your feedback.
To your health,
Dr. C