Do you love wild caught salmon? Dr. C and I do!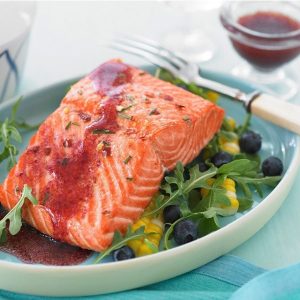 A couple of years ago, I was at a dinner with a bunch of people in the health industry. I knew some. And I had heard of others. And, like some events I'm sure you have been to…I didn't know others at all.
Dr. C was chatting with some friends and I was eating my food. (I am always up for eating good food!) Anyway, I didn't know the gentleman sitting next to me. So he introduces himself and we are chatting for awhile before I realize who he is.
Randy. Randy from Vital Choice!!
You don't understand how much I love good food. I. Love. Food! Randy is my superhero! He is the Alaskan fisherman who started Vital Choice (my favorite place to get salmon!) as a way to get the most delicious and sustainable salmon to you. And his salmon marinade will make any ol' fish you cook, taste like the best gourmet meal you've ever made. Seriously, you need to order that along with the salmon because his salmon is unlike anything you have ever tasted. It's melt-in-your-mouth magic.
This is THE best place to get salmon. Hands down. The best!
And you can get 15% off your order when you use this code:
DRC15OFF
SHOP VITAL CHOICE