Don't Pull Your Hair Out This Holiday Season…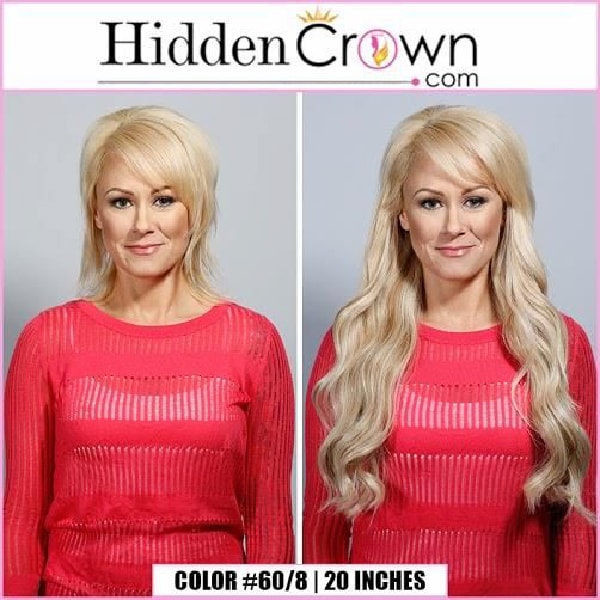 Speaking of pulling your hair out, I have a fun solution for you especially if you have thinning hair (I do, so you're not alone if you do too). Especially when you have thyroid issues, getting your hair to grow back is the step that takes the longest and it can feel like forever.
As a former model and Mrs. America contestant, I've had my hair teased, crimped, sprayed with icky chemicals, extensions taped, or glued in (why would we want toxic chemicals, like GLUE and adhesive in our hair??) and a myriad of other crazy things done to it all in the quest for beauty and to look younger than the 40 something years I've been on this planet.
Out of all the ways to add volume (or length) to your hair, hands down my favorite is Hidden Crown. No glue, no tape, and zero damage to your hair…and it only takes 30 seconds to put in…and 5 seconds to take out. It was started by a friend of mine, Shelley, also a model and former Mrs. America contestant. She's over 50 years old and she looks like she's decades younger and it's largely in part to "her" gorgeous hair…. shhhh.
You get $10 off your order when you use the code: CROWN10
If you have any questions on what color is best for you, you can send a photo of yourself and her hair expert will tell you the best color to get. I was so thankful when Shelley came out with her line because out of the other brands I've tried, her's costs ⅓ -½ less and gives you MORE hair.
No Clips. No Glue. No Damages.
SHOP HIDDEN CROWN
Use the code: CROWN10 for a $10 discount and you will also receive a Free storage bag, hanger and heat resistant comb (value of 29.99) with the order too.